Since 1848, Morton Salt has been an American food company producing salt for food, water conditioning, industrial, agricultural, and road/highway use. Based in Chicago, the business is North America's leading producer and marketer of salt. 
As medical diagnoses that lead to sodium-restricted diets have increased with the rise in heart disease, diabetes, and other conditions, Morton has responded with a salt substitute. Morton Salt Substitute is a sodium-free product designed for people on a doctor-recommended, sodium-restricted diet.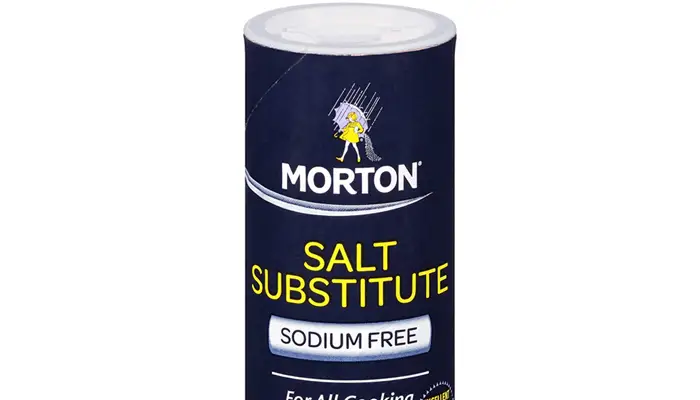 What can I substitute for salt?
There are options to substitute for salt. Remember, however, not to cut salt entirely from your diet, as it is needed for your health. Read (insert a link to) Importance of Salt.
Cinnamon Substitute
Cinnamon, a spice commonly used in baking, can be used as a replacement for salt. With slightly sweet and peppery undertones, add cinnamon to many main dishes, soups, sauces, and marinades. Replace salt in beans and lentils with cinnamon to enhance their flavor.
Potassium Chloride Substitute
According to some people, most salt substitutes contain potassium chloride, which tastes similar to sodium chloride (salt) and may leave a metallic taste.
In a recent article by Canyon Ranch, you should avoid potassium chloride if you have kidney disease or take medications for high blood pressure or congestive heart failure that cause your body to retain potassium.
Herbs and Spices
Adding flavor and aroma to various recipes is a way to replace salt. Herbs and spices are sodium-free and have multiple antioxidants, beneficial to overall good health.
You can use fresh or dried herbs in your dishes. Dried herbs are twice as potent as fresh ones and should be crushed (in your hand) before adding them to food to release the oils. Dried herbs are time-sensitive and begin to lose their flavor after about six months.
If you want to buy a ready-made spice, you may want to consider Mrs. Dash's salt-free products. Each blend, seasoning packet, or marinade contains many herbs, allowing your palate to enjoy the flavor without the salt.
Some herbs you may choose to try:
Poultry:
parsley, bay leaf, thyme
lemon zest, thyme
marjoram, thyme, oregano, sweet-savory
lemon juice, garlic, oregano, rosemary
sage, thyme, rosemary
Seafood:
Parsley, chervil, chives, tarragon
Garlic, ginger, rice wine vinegar
Lemon juice, oregano, garlic, rosemary
Cumin, chili powder, cilantro, lime juice
Vegetables:
Garlic, basil, balsamic vinegar
Lemon juice, parsley, dill
Ground pepper, cloves, ginger, nutmeg


Kinds of Vinegar and Juices
Consider using vinegar, citrus juices and zests (the colored outer peel of citrus fruits), and extracts as they are flavorful and sodium-free.
FAQ
What is a good salt substitute that tastes like salt?
Potassium chloride is a popular choice, but other options may include cinnamon, citrus fruits, peppers, herbs, spices, kinds of vinegar, and juices.
What's the best salt to eat?
The salt that is considered the healthiest is Himalayan pink salt, which has high potassium, magnesium, and calcium levels.